Hello,
this will not work, there is no Bluetooth connection possible anymore.
The box now goes to Poweroak, repair or exchange.
This was then my last update, this does not work reliably
You need to connect Bluetooth and the phone should also open Bluetooth and positioning, could you please try again?
A Bluetooth connection after the update is no longer possible,
only the serial number is displayed.
.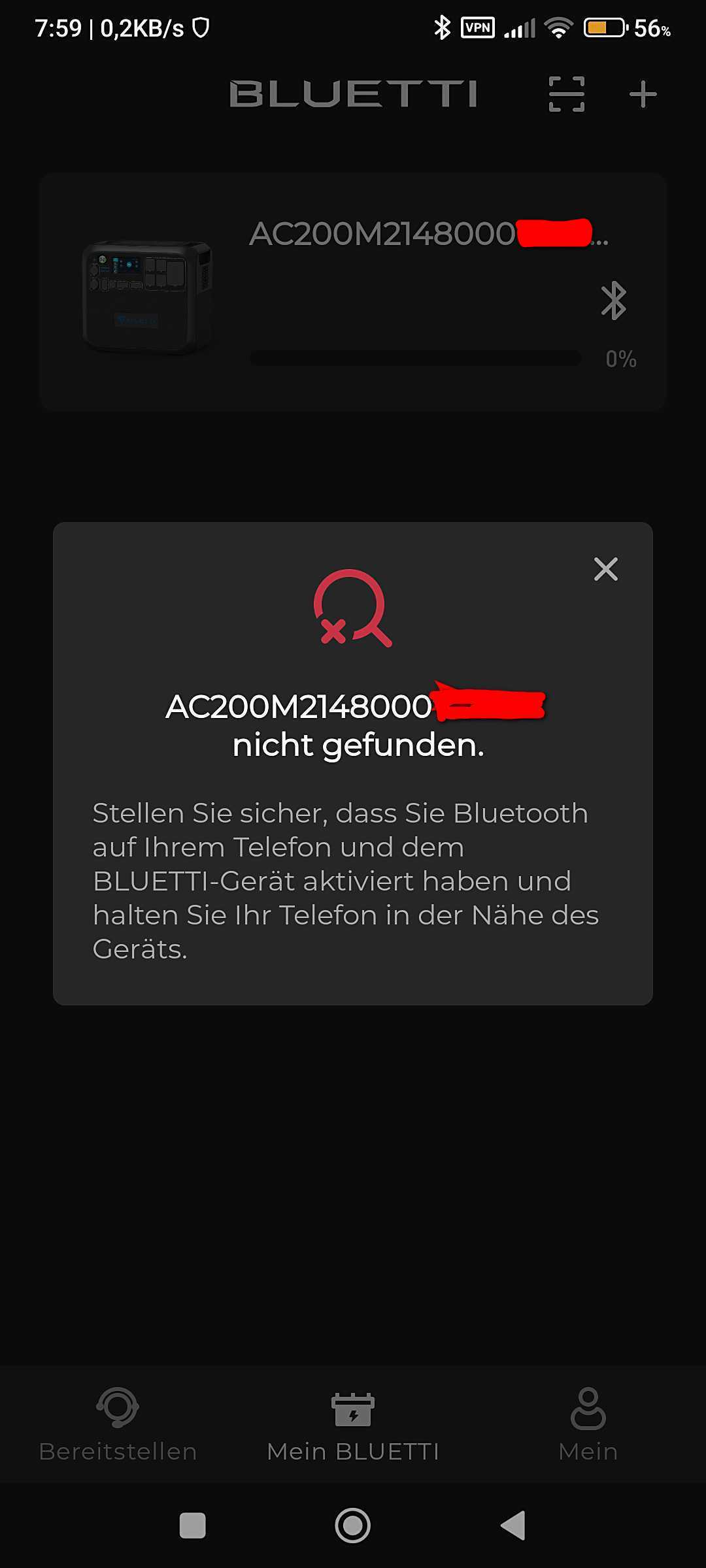 .
.
See your here, the same problem after update.


.
.
.
I am having the same problems after the update with my EU AC200Max… i wish i had read this sooner

more and more people are coming forward,
and from bluetti no position name to the update problem.
Please @BLUETTI , My box is useless now and i get no answers anywhere. Not in forums or on my app. I posted or tried to post a warning in the Bluetti EU group but even that post is under review already for 24 hours and it is not released!!! At least warn people about this issue as much as you can because that will benefit your organisation also. Every saved battery is one you do not have to replace…
Have last week also already informed service@bluettipower.com and sale-eu@bluettipower.com about the problem - defect, with a request for repair or exchange. So far no response received.
.
The seller has worked for the exchange. I still have not received a response from Bluetti
Hallo, ich habe dasselbe Fehlerbild nach einspielen des Updates
Bluetti Support stellt sich tot, unterirdisch .-8
Hallo,
ich habe exakt die gleichen Probleme nach dem Update.
Meine AC200MAX ist jetzt wenigstens unterwegs zum Verkäufer,
ich hoffe, dass die dann repariert oder umgetauscht wird.
Jedenfalls war das dann das letzte Update, das ich an den Bluetti´s durchführe.
Ja, und Bluetti stellt sich tot
.
They finally found the problem. Any upgrade done with not the 1.3.3 version of the app will result in our unfortunate situation. So guess what is the advise? Download the 1.3.5 version and upgrade again from there. BUT STILL WE CANNOT MAKE A BLUETOOTH CONNECTION WITH THE MAX AND IT DOES NOT HAVE WIFI.So there… It doesn't fix nothing and i am forced to use the terribly terribly bad visual app from now on… And i thought it could not get worse…
Ja, ist so Bluetooth funktioniert nicht mehr, so ist auch kein update an der AC200MAX mit der App möglich. Bleibt noch eine Reparatur im Werk oder Umtausch übrig.
.
Yes, so Bluetooth no longer works, so no update is possible on the AC200MAX with the app. Remains a repair in the factory or exchange.
After the update update no further Communication via bluetooth is possible; so @BLUETTI replace all power boxes of users affected, last call for you. Next will be from my laywer to take back whole system back and refund it (AC200Max and 3 x B230)
We are very sorry for the inconvenience. We have confirmed with the relevant technical engineering that if the AC200MAX does not continue to work after updating the firmware, it will need to be returned for repair and a single update process at a service station.
Yesterday I received my box back repaired.
But that is handled through the Amazon store.
.
From Bluetti customer service
(service@bluettipower.com and sale-eu@bluettipower.com)
I have not received an answer until today.
About answer within 48 hours…
Shocking service. How can you push out an update without testing that bricks machines. At least send everyone an email telling them not to update and that their is an issue.
Same issue. Please fix this brick
Update on the situation,
I still have not received a response from bluetti support.
My box is now repaired by poweroak, but I will definitely not update in the future.
.
No position here in the forum to this problem on the part of bluetti, no help, how to repair the no longer working devices the fastest way.
.
Such a problem can always happen, but a company should not play dead afterwards, and try to sweep the error under the carpet.
.
I will not recommend bluetti after this disaster.
Support is different.