Update didn't move past 0% and now it has bricked my device. It's now stuck on 4 flashing lines
PLEASE HELP!
After attempt of upgrading error message appears in Bluetti app (see screenshot attachment)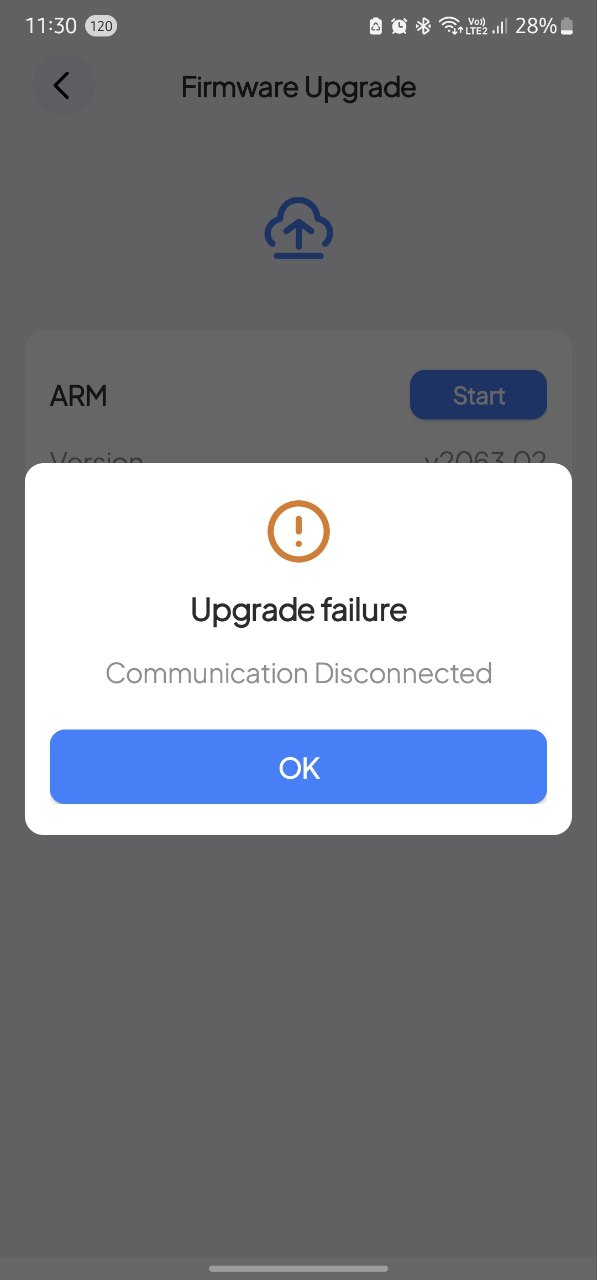 Then station goes off and not responding at all.
I've recorded short video to show what happens with station
http://gofile.me/5373Z/LKHQNrREK
@thisisnotreal29 @indesit80 Are you using a phone with Android 14? You can try to upgrade to another mobile phone. Please pay attention to below:
Please remove all inputs and outputs, such as PV, mains, and loads.
Keep the phone as close to the machine as possible
Upgrade the APP version to the latest, and then upgrade the firmware again
Set the machine's screen-off time to "Never"
If the phone is connected to WiFi, try turning off the phone WiFi and using data to upgrade again, or try turning off and on the phone WiFi.
Clear the APP cache and try to upgrade again.
Try downloading the APP again
Hello.
It seems you don't read my message.
Did you saw enclosed video in my last message?
My station turned off and won't switch on after my attempt of ARM upgrade
My only phone is android 14. Managed to update the ARM with an iOS device
Now the DSP version is v0 and I get a battery pack communication failure error. No option to update the DSP now either
I do get the screen back from the flashing lines but only the light is working. The DC and AC are not functional
@indesit80 I am sorry I can't open the video. If the EB3A can't be turned on via charging, it need to be returned for repair.
No reply from the UK after care team via e-mail and the phone number provided never gets answered