Calling all AC300 enthusiasts! Here's your opportunity to upgrade your setup.

We want to hear all about your amazing AC300 journey from the past year.
Share your valuable insights, practical tips, and personal stories in our group for a chance to win big!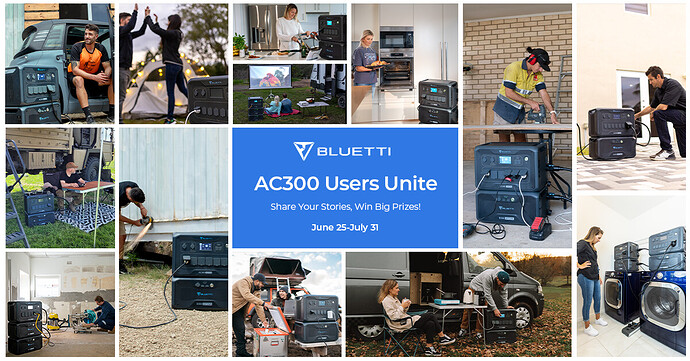 Amazing Prizes Await:

1st Prize: BLUETTI AC500

2nd Prize: PV350

3rd Prize: T500

Lucky Draw: BLUETTI Trolley Cart

Participation is easy:

Post with hashtag #MyAC300afterAyear.

Posting (Create New Topic) with Delivery Date (when your AC300 setup arrived), replying to posts will not be counted.

Include relevant photos or videos to demonstrate how the AC300 has empowered you in real-life situations.

Event Dates:
June 25th to July 31st

Notes:
The more engaging and insightful your post, the higher your chances of winning.

The judging panel, consisting of BLUETTI representatives, will determine the winners based on the quality and creativity of the submissions. The winners will be announced on August 2nd.

This event is open to participants worldwide, but please be aware that prize shipping restrictions may apply to certain locations.

Don't miss out on the chance to enrich our community with your extraordinary AC300 journey! Act swiftly and embrace this opportunity to inspire others💪

Unleash your creativity and make your mark – the time is now!