Thanksgiving is right around the corner!



How are you planning to spend this grand annual festival with your family/friends? Have you already prepared your shopping plan for this year's Black Friday🛒️? Or the menu for Thanksgiving🍽️?
If you have already prepared the menu for Thanksgiving, that's great! Share it here and join "Thanksgiving Recipe Showcase" event!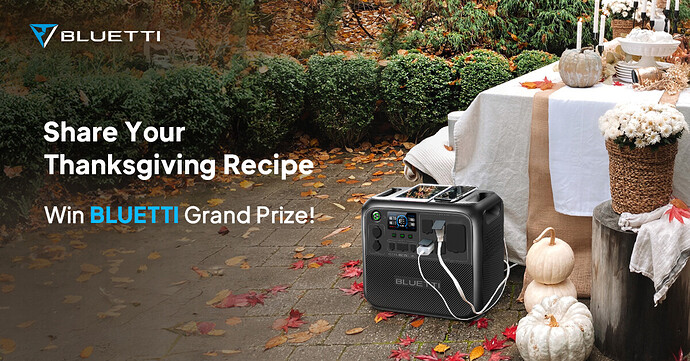 BLUETTI encourages you to share your favorite Thanksgiving recipes that can be prepared using BLUETTI power stations. Submit your recipes along with photos or videos showcasing the cooking process.

Enter with tag #BLUETTIThanksgiving2023.


The post with the highest likes will win the first prize, AC200L.



The second and third place with the highest likes will win the second prize, PV220.


Lucky prize winners get 1000 BLUETTI Bucks!

Campaign ends on

0:00 AM PST on November 26th.
Come share your recipes and cooking process with our forum members!