What	Makes	Bluetti	EB55	Stand	Out?

It has been three months since the Bluetti EB55 was launched. It has
taken the fancy of many people by lovely colors and a small shape.
Someone vividly named it " EB70's little sister ". If you want to learn
more about the uniqueness of the EB55 and find out if it will fit your
needs, this article is for you!
Compared with other home backup energy, EB55 has only 16.5 pounds.
Popular with lightweight and portable, it catches people's eyes firmly,
especially short-distance travelers.
Bluetti EB55 has a capacity of 537Wh and provides 700 watts output power.
The surge power even reaches 1400 watts. It is enough for the basic needs
when someone is on the way.
If you are new to the power station, in case you did not know, most power
stations on the market use LiFePO4 battery cells, including EB55. LiFePO4 is
featured with a long-lasting battery life span, safety, stable performance, and
friendly to the environment.
With a built-in advanced Battery Management System (BMS), Bluetti
EB55 protects your devices from overload, over-current, short-circuit,
over-temperature, etc.
Along with the Bluetti EB55, there is a box stuffed with an AC-DC
adapter, a user manual, a warranty card, solar charging cable, car
charging cable, and charging adapter cable, respectively.
What you might not think of is that it can be recharged in several ways. It
supports: PV charging, Wall Outlet Charging, Car Outlet Charging, and
Generator Charging. EB55 also supports double-lines recharging. With a
max input power of 400 watts, either from dual AC adapters or AC+ PV, it
can be recharged from 0-80% within 1 hour. The actual charging time
depends on the weather, solar condition, and the angle of the solar
panels. Remarkably, the total open-circuit voltage of solar panels,
matched with EB55, should be in the range of 12 voltages to 28 voltages.
DC output ports are at the bottom left corner and upper-right corner.
One PD 100 watts USB-C port can be used for your mobile phone, laptop,
tablet. Four 5V/3A USB-A ports work for your camera, iPad. On the
diagonally opposite, two DC 5521 ports usually supply power to LED
light strips and security cameras. A regulated 12V/10A DC carport is
next to the 5521 ports.
There are four pure sine wave AC output ports (100-120V 700W) for
the US specifications or two ports for the EU specifications on the
bottom right corner, which can power Rice Cooker, TV, and Drone.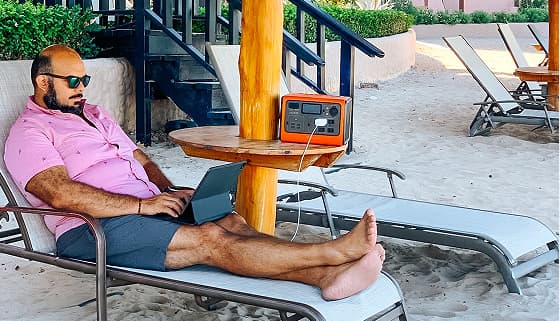 On the top of EB55, a wireless charging pad is provided. In a word,
EB55 seems too "young" but still powers 13 devices simultaneously.
Supporting pass-through charging also is a thumb.
At the upper middle part, the screen showings the remaining energy
and the power of input and output. However, no one is perfect. On the
one hand, the screen should automatically adjust the brightness
according to the surrounding environment. On the other, the battery
bar should be improved and provide more detailed data by Bluetti
team. Just give some time and look forward to their changes.
Praised by users is the design of the folding handles. Bluetti's power
stations have two handles that lift from the top of the unit, which can
be carried with one hand. EB55 is not an exception. The force was
even when grabbing it, so as easy to carry. As for me, I like it as it is a
natural stool for children to sit and stows to allow stacking flat items
on it, then you can free your hands and relax.