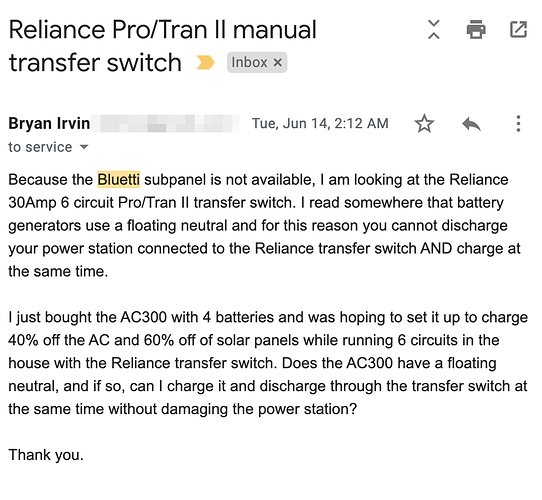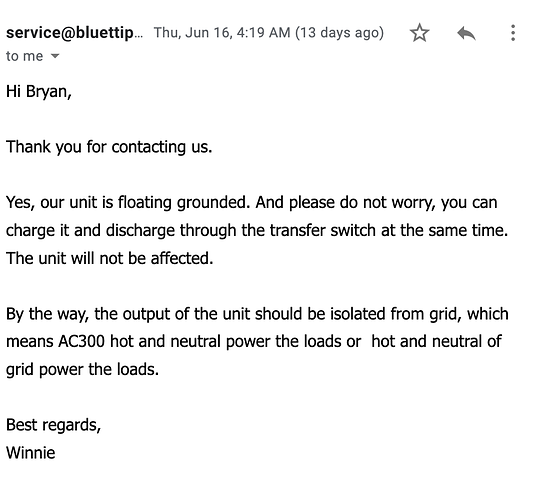 AS you can see, I specifically asked Bluetti about a Reliance Pro/Tran 2 transfer switch and was told there was no problem using this switch.
BUT this transfer switch is not GFI switching, which means it does NOT do neutral switching like the Reliance XR series switches. I ended up frying my AC300 as a result. The AC charging circuit that was not connected to the transfer switch kept tripping every time I turned on the AC output with the transfer switch connected through the L14-30 cable. This left me with no grid charging option when the batteries fell below the PV priority UPS threshold. I posted on the community and was offered a solution; move the AC300 charging input to another circuit that was not AFCI or GFCI. The only circuit I had that was not went to the refrigerator, which had been wired into the transfer switch, so I flipped the switch to LINE and left all other circuits on GEN to pull from the AC300 and when I plugged in the AC300 charging input to the outlet - POP! no more AC300. Now it won't do AC output or charge from any outlet because the transfer switch DOES NOT isolate the neutral on each circuit and switch the neutral like a GFI transfer switch does. Now all I have for my $3500 investment is
OCP (Over CurrentProtection) - Hardware
@BLUETTI Could you PLEASE add specific warnings to users regarding the absolute REQUIREMENT that any manual transfer switch used with Bluetti floating neutral generators be GFI switching switches? OR could you make your smart panel actually available to buy? Either one would be great. I just blew up my brand new AC300 and I'm not happy about it. Now I have to do a warranty transfer just to get up and running again.