July's Newbie Gifts Giveaway winners are now announced!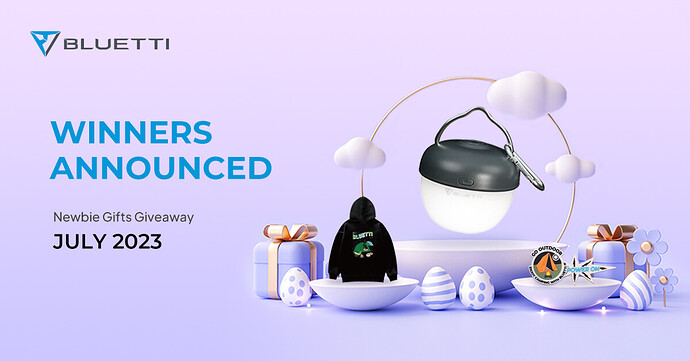 Thank you so much to all you new members for your positive sharing and helping others this past month.

We will be giving away a BLUETTI Souvenir,
camping lantern
- to the following winners!


@Jeff_bzh
@bluetti_chrisknight315gmailcom
@Sideeffect
@Ponty
@Jeepon
@bluetti_contactangeliquelouailcom

Also, I want to give a special thanks to @Selfmadestrom



Thank you for your willingness to help and offer your experience to our new members. A camping lantern will be sent to you as well!

When you see you're on the list, private message me with your information ( including your full name, phone number, email address, and your detailed shipping address. ) before Aug. 10th!

Congratulations to the above-mentioned winners, and we hope that you will enjoy your outdoor activities once you receive your camping lantern.
The August Newbie Gifts Giveaway continues.


Let's be active together, post high quality topics, share our unique viewpoints and experiences, and make the BLUETTI forum a brilliant starry sky of knowledge.