I didn't want to wait any longer for replacement aviation cables to be available for my AC200 so I decided to make one (input side) myself. It turned out well and my first attempt was to simply duplicate the original OEM unit that came with the AC200. I will make some longer versions in the future. Links below are for the items needed to build. Fairly easy and just remember to always have the positive wire on Pin number 1 of the avaiation connector and positive on the flat side of the XT90.
The cable was a little hard to find (2 conductor pure copper, tinned in silicone insulation contained in round flexible insulation) but the one I chose is 14 ga which is one size larger than the OEM wires and is more flexible as well. I bought 30' but you can purchase as little as 10'.
The gender of the Weipu connector contacts can be swapped from one piece to the next so you can use this connector for the aviation output or input cable. There is a small silver snap ring that you carefully pry out to remove the contacts to swap to the other housing.
https://www.amazon.com/…/ref=ppx_yo_dt_b_asin_title_o00…
https://www.amazon.com/…/ref=ppx_yo_dt_b_asin_title_o00…
https://www.amazon.com/…/ref=ppx_yo_dt_b_search_asin…
This little gem is worth its weight in gold when making cables but is not a necessity:
https://www.amazon.com/…/ref=ppx_yo_dt_b_search_asin…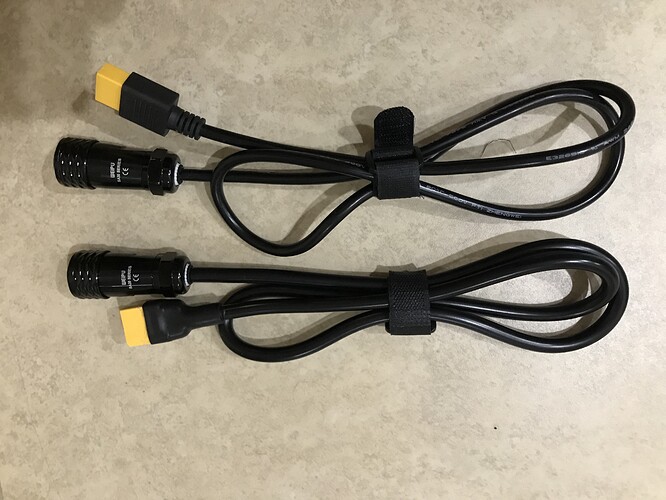 Here is a pic of the included OEM cable and the cable I made. The cable I made is on the bottom. Notice the thicker wire cable. The OEM XT90 molded connector is definitely nicer, but I made do with a piece of heavy duty shrink tube which worked faily well