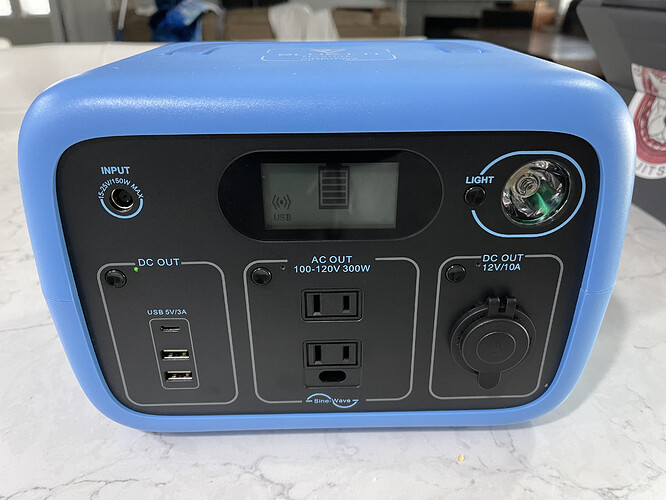 The Bluetti AC30 came well packed with foam inserts to prevent damages.
Unboxing: Bluetti AC30 UNBOXING! Portable Power Station, 300Wh, 12.8v 24ah - YouTube
The unit is a small and portable. Some of the features:
Input:
15-25v/150watt Max
Plugs:
One: USB-C
One: USB-A
One: Fast Charge Wireless Charging
One: DC 12v/10amp
One: Light (low/High/SOS)
Two 120v outlet (wall outlets)
Testings:
AC outlets:
I tested this device on a Sony 42" 1080p tv, Logitech c920 webcam, and 2018 MacBook Air 13" (11% battery) while streaming on Zoom. It did great during this test.
Start: 4:40pm
End: 8:19pm
Wireless charging:
Works with Iphone Pro Max 512GB and Samsung Note 9. The note 9 was able to utilize the fast charging! I wished iPhones could do this as well. Both passed with no issues.
12v outlet:
I tested with my portable camping refrigerator/cooler. Massimo CX40 (bought from Costco). This ran it well with no issues. I'm looking forward to using this for my summer camping trips!
Light:
I light this feature (low/high/sos). About a week ago, my power was out and this would have been nice to have around.
PROS:
- Long battery life: LiFePO4 3500+ cycle!
- The fan is quiet (I did not hear it while charging)
- Fast wireless option
- Small and portable! (Emergency, camping, travel, etc)
- Solar charging (25v/150watts)
- This is a great unit to have for small devices under 300watts draw!
CONS:
- Wished it had a battery percentage display instead of just 5 bars
- Slow charging with supplied power (46 watts input/around 8hrs or so) and it got HOT
Overall:
The Bluetti AC30 is a great unit to have around. The price is good for the performance. Yes, there are some limitations to this unit as you have read in the cons but I think the pros outweighs it. I will be buying a higher output dc plug (100watts) and charge the unit in half the time.
Conclusion: I think this is unit is a great buy. I will be using this to power my portable refrigerator/cooler, lights, iPads, and iPhones during our camping trips and emergency power outages.