I've been trying to figure out what AWG cable I should be using throughout my set up.
Currently I received my AC200Max a few days ago and everything has been great. I've discharged it to 0, and charged back to 100% to get it ready.
I'm waiting for a few supplies to come in before I hook up my solar panels to them.
I plan to have 4x 360W panels in a 2s2p configuration to allow for the Voc to be lower than the 150W limit. If I connect 3x in series (this would be optimal setup), it would hover around 135V which could potentially spike above the 150V limit in the winter.
Here is the stats on the panel: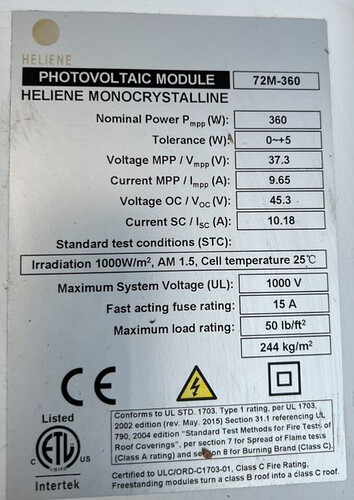 in 2s2p configuration, I pop into footprinthero calculator I get the following that will be overpanelled in W and A for the AC200Max (900W and 15A), which I'm okay with.

The question is, what AWG cable should I be using? The cable run will be around 30 ft to the AC200Max. I was thinking 10 AWG (which I can reuse again later if I move the AC200M to a further location, making the run longer) but noticed that the included Bluetti XT90 adapter to MC4 is only 14 AWG, so would this be an issue that the cable adapter is too thin to handle my configuration?
Panels connected via 10 AWG 30' cables connect into 14 AWG MC4>XT90 adapter to AC200M.
Any help from the community would be greatly appreciated!
Thank you in advance.