AC180 is live now on our official US site!


Grab your BLUETTI AC180 today at an affordable debut price $799.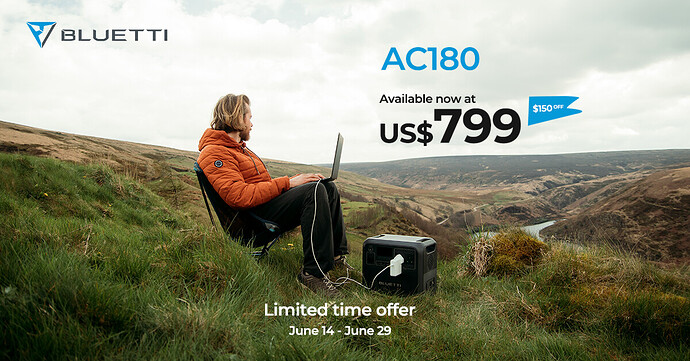 I am going to purchase the AC 180 but I also need to order a cable to connect to a B300 battery.
Is the P090D To XT90 the right cable?
@donnob You need a P090D to DC7909 cable .
Please refer to this thread to learn more
Will the AC180 be able to charge the B230 if I use this cable or is it only one-way connection and no charging the B230?
It is a power bank mode. AC180 cannot charge battery pack, only the battery pack can charge AC180.
Thanks for the information. I wanted it to work like the AC200Max. too bad.
I need the fix for the noise when in silent mode, it turns on and off about every twenty minutes. I heard you have a new software version to fix this problem. thanks
Will the P090D to DC7909 cable work between a B300S and that AC180? If not is there a cable currently available that will work? If not, does Bluetti plan to offer such a cable? Please advise…
Thank you
Reg Parks (happy owner of 2 AC500 control units and 6 B300S batteries, two PV420 solar panels and an EB70s)
Sorry. It is confirmed that AC180 can only be connected to B230/B300 via 090D to DC7909 cable, and does not support connecting to B300S.
You are referring to the noise problem of AC180, right? If so please provide your AC180 serial number and I will have an engineer try to push a new firmware to you.
just got my ac180. FANTASTIC!
I do have a question
it's supposed to be portable. what about grounding. is it necessary?
AC180 is an off-grid product and can be used without grounding.
Just joined the Bluetti family by picking up a pair of units (AC180 + EB3A) for some peace of mind.
@bluetti_cabowabodudeaolcom
Thank you very much for your trust and support to BLUETTI! After you receive them, please don't hesitate to send a share in the forum!
I also just got my AC180 I am so happy, I almost bought a Jackery

Same question, No Grounding Ever? Also when will you have a Case or Cover for the AC 180 ED
@bluetti_bradyed41yahoocom
Off-grid machines can be ungrounded. Also, we are very sorry that for AC180, we do not offer a carrying bag. Carrying bags are generally suitable for smaller machines such as the EB3A/AC60, larger machines can use trolleys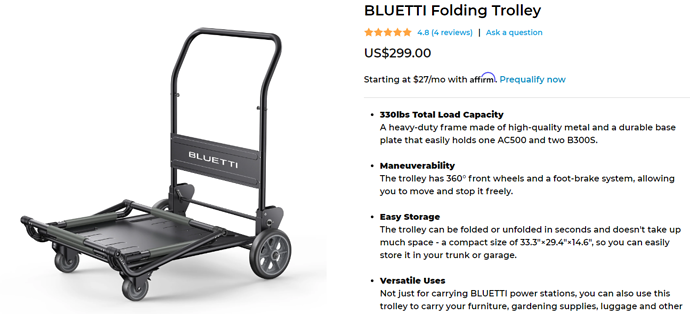 .
If one purchases a B230 or B300 battery for the AC180 will the P90d to DC7909 cable be provided as part of that purchase? Thank you.
@regparks The connecting cable needs to be purchased separately and is not supplied with it.
@bluetti_cabowabodudeaolcom Thank you for your support!